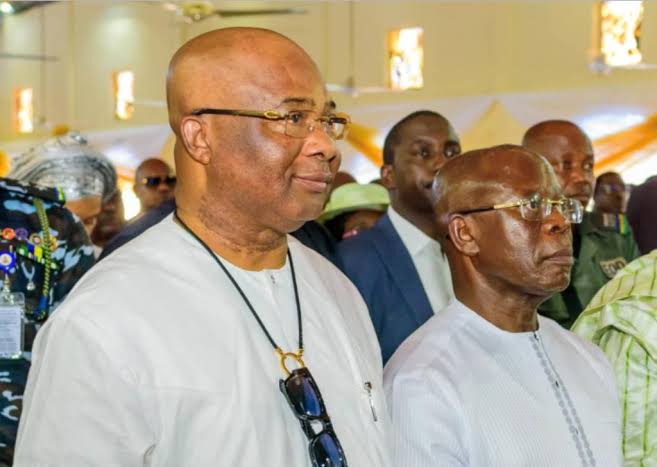 The raging battle between US based business woman and philanthropist Sandra Duru, and the Imo State Government may yet become Gov Hope Uzodinma's biggest embarrassment, if firm steps aren't taken to stem the matter from escalating further than it has already gone.
In recent times, the Imo State blogosphere have been busy with war of words between Sandra Duru, and government media handlers.
Both sides have hurled unprintable names, and made heavy accusations at each other. As at yesterday, Sandra Duru made posts with pictures and videos on her Facebook wall, alleging a plot by government aides to kill her.
With the way things are going, the matter seems to be escalating into a very embarrassing situation for the government, if nothing is done urgently to curb the problem before it gets out of hand.
The verbal war started after Sandra Duru, reacted at the detention of Ambrose Nwaogwugwu by the DSS, at the instance of the state government.
The government media handlers, didn't take her reaction lightly and responded in very harsh terms. They further dragged Sandra Duru's children into the matter, further escalating the situation.
The government media handlers had published some unsubstantiated allegations against Sandra Duru, prompting her to make some publications of her own, including a case of a N200million dud cheque issued by Uzodinma when he was a senator, for which he was dragged to court for. She further promised to make more expository posts on her Facebook handle.
With the way the verbal war is going, Sandra Duru seems to be having an upper hand, while the government media handlers are being bashed by readers more than they get support. Most of those writing in their favour seem to be members of the government team, whereas independent commenters seem to back Sandra Duru by the day.
If Hope Uzodinma doesn't step into the matter firmly and timely, the Sandra Duru matter may yet be his administration's biggest embarrassment, as it was with former Deputy Governor Eze Madumere.
The verbal war between Madumere and Sandra Duru from 2012 to 2016 was believed to be one of the reasons Madumere couldn't win the confidence of the people in 2019 when he ran for the APC governorship ticket.
A wise Hope Uzodinma, should not make the same mistake by underestimating Sandra Duru.
An advise from a concerned Imolites to the governor, is to call his media team to order as they are causing more harm and embarrassment to the governor than good. The Governor should also get to the root of the matter and address it fairly before it gets out of hand.
My name is Obidike Nwagwu Esq.